Creative delicacies in Montafon
The gourmet hotel with half-board
Back to basics. Fresh and healthy cooking from the region. Creative creations, lovingly prepared – a flight of fancy for all the senses.
Our head chef conjures up a wide selection of culinary specialties on a daily basis, prepared with much love for detail. Enjoy the light, creative kitchen with all your senses. Only premium ingredients are used, mainly sourced from the region. Indulge in the wide selection while enjoying the panoramic views.
Breakfast is served from 07:30 to 10:00.
In the afternoon from 14:30 we serve home-made cake in the dining rooms or on the sun terrace in summer, from where you can enjoy wonderful views of the mountain backdrop.
Dinner guests are welcome from 18:30 to 20:00.
the breakfast
A culinary highlight
For your perfect start to the day! Colourful fruit, fresh pastries, freshly brewed coffee, an extensive tea bar and a wide selection of regional cheese and sausage specialities. Our guests can put together their own breakfast to their heart's content from the generous buffet. Our muesli corner is a special highlight. The wide selection of fresh fruit salad, organic muesli, cereals and nuts leaves nothing to be desired.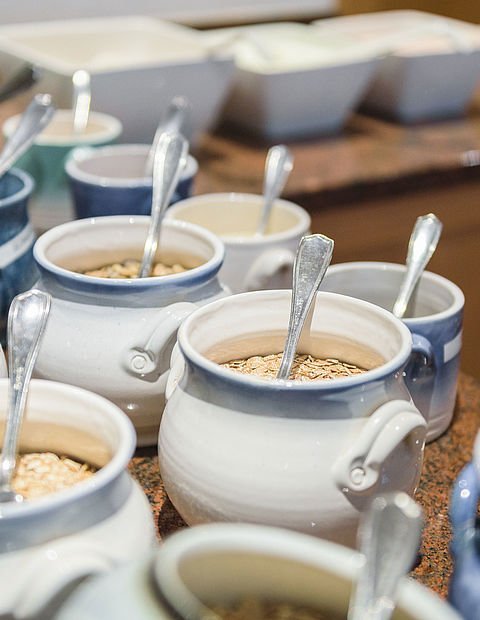 the 4-5 course dinner menu
A dream for true connoisseurs
Hearty, creative and regional. That's the motto of our kitchen. A symbiosis of the finest ingredients, creative presentation and the passion of our kitchen team. From the extensive salad and starter buffet, to a large selection of local speciality cheeses and home-made desserts. A culinary pleasure trip through the region of Vorarlberg. For the youngest ones we offer healthy and delicious children's menus, sure to satisfy their hunger after an eventful day.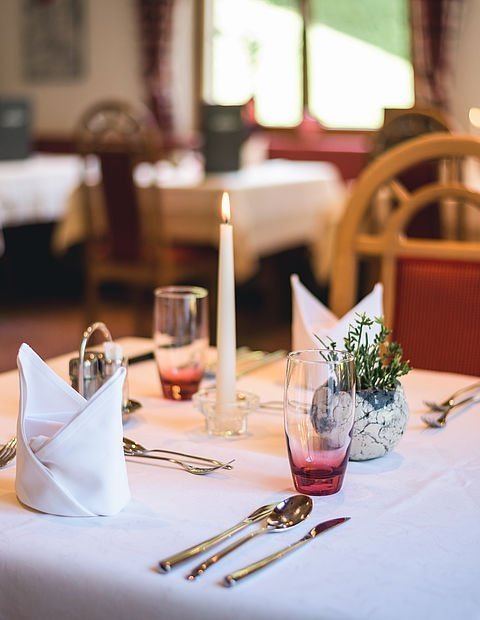 the bar area
A meeting point for socialising & selecting wines
In the bar area, our head bar-keeper Lambert is available to support you with qualified recommendations when it comes to selecting a matching wine for your meal or a special creation according to your requests. The harmonious setting for a pleasant meeting among guests and hosts or unhurried sampling of some regional wine.